What's Wrong With This Picture?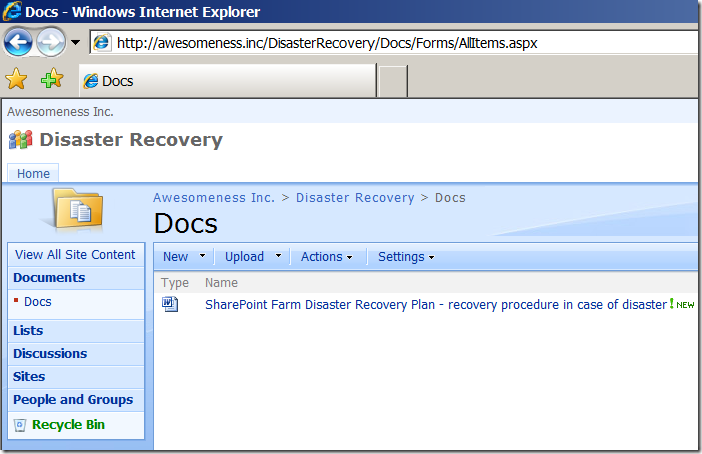 The answer awaits you below the fold...
.
.
.
.
.
.
.
.
.
halfway...
.
.
.
.
.
.
Did you know that some feed readers give you a text-based preview of each post, and thus, if you're attempting to hide answers in your blog post by using whitespace...well...let's just say that this little meandering path, this seemingly useless little discussion we're having right now, serves a purpose.
Continuing...
.
.
.
.
.
Horrifying, correct answer: your SharePoint disaster recovery plan is stored on your SharePoint site! Uh-oh!
One act play
I've wrote a full-length, dramatic re-enactment of this situation, originally a 600-page manuscript. Which was way too big, so I ran Word Autosummarize on it, 40 times in a row. What you are left with is below: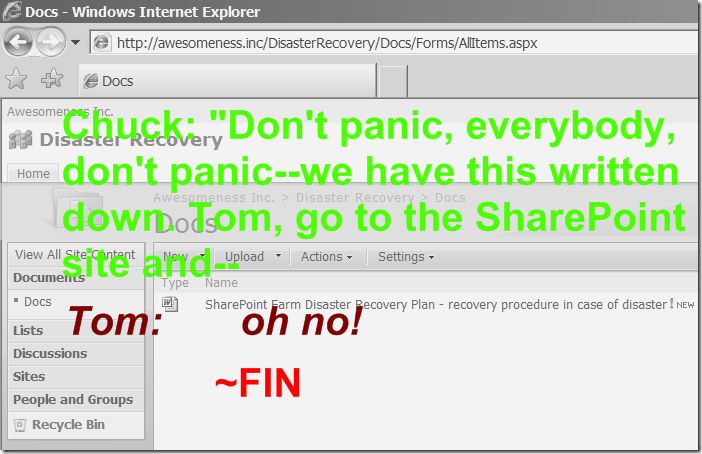 Um...branding?
Also, if you answered "the problem with this SharePoint site is that it looks like SharePoint," then you're technically correct, unless your SharePoint site already looks like hawaiianair.com, or is in fact hawaiianair.com. If you're not running hawaiianair.com, by now you've already been told that lack of branding is a 'problem'. So, anyway, good job on guessing "branding," which is so commonly the answer that you might as well throw it out there every time you're lacking ideas. "Um...branding?" is always a good idea.
Lesson learned: off-site backups
I'm not going to be any more specific, because I don't have any magic automation to eliminate this problem--I'm just saying do something.